Hi,
My home connection was made a week ago and at the weekend it suddenly stopped. I reached out to your customer service and was told that I needed make an appointment with Guidion. The earliest possible day is 6th of October. 
I tried to reach out to your customer service again and after waiting 31 minutes the Guidion scheduler told me that the earliest date was 6th. And I was treated like bum by this person. It has been more than 20 years that I wasn't treated this bad in my life . As a customer I deserve a better attitude and treatment.
I work remotely and this is unacceptable for me. I really don't care if you are busy or not. You are providing a service and I am a customer. You don't have any right to put me in a situation like this.
I searched every page of your customer service website and could not find any email address I can send this mail to. What kind of service are you providing?  I don't care if you provide 1 trillion bytes per second connection rate. I want to depend on your service and after 1 week of customer experience I realized I cannot do that. With Ziggo, they immediately send the technician. Which I am going back.
I couldn't find any explanatory article how to cancel my subscription. Could you please provide guidance?  I don't want your service anymore.
Beste antwoord door Cal 22 september 2020, 18:46
Good evening @fkaracaer, 
Thank you for giving us a heads-up. I am very sorry that the initial date was very far ahead, and it shocked me to read about your experience with Guidion. Therefore, I will immediately file a complaint with Guidion so that we will review their service. I am glad to see that your appointment was brought forward to Wednesday the 30th of September, but I'd much rather have you reconnected as soon as possible. To accomplish this, I would like to advise you to try the following with our mediaconverter, which looks like this and should be close to the modem: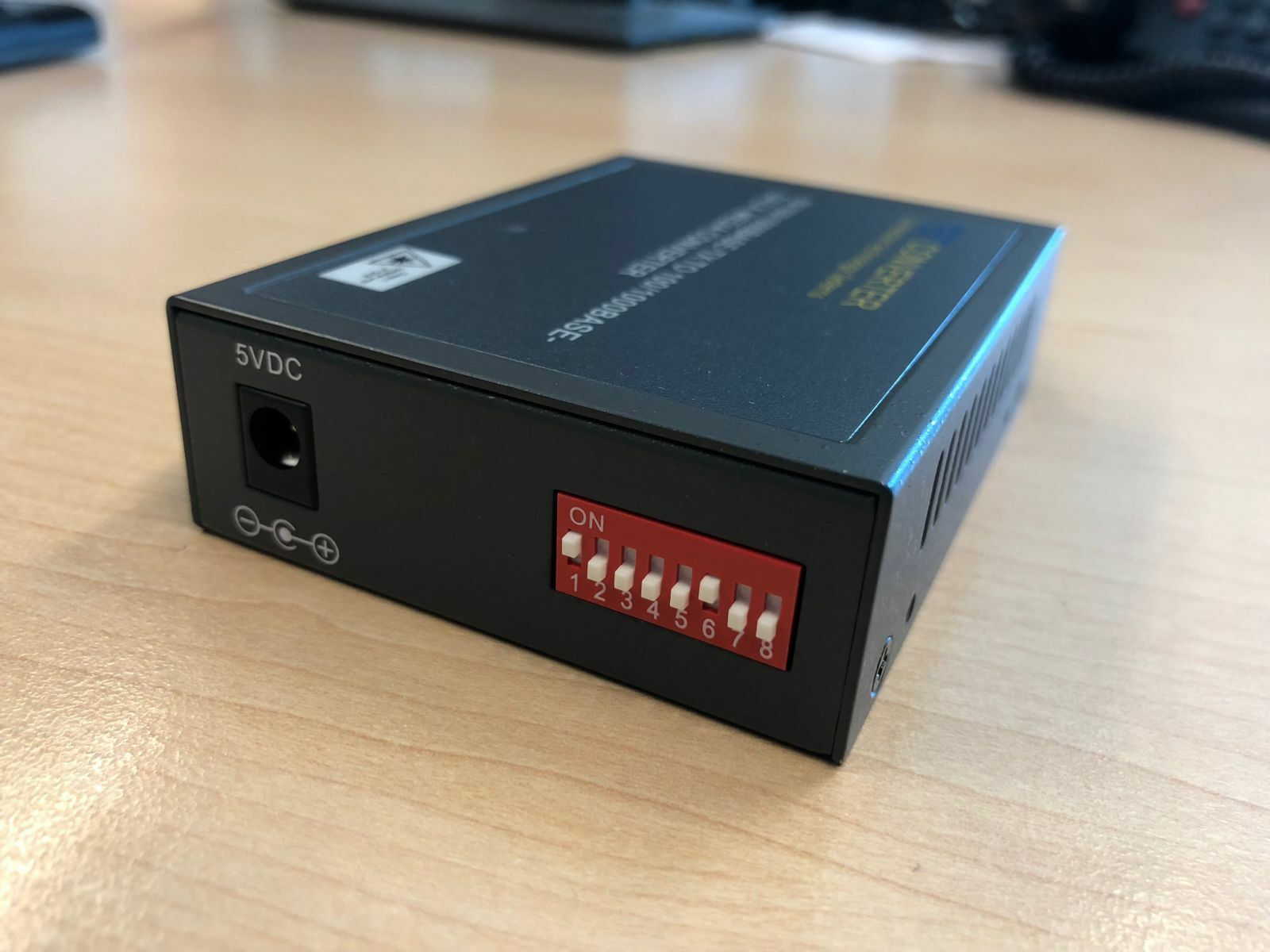 Could you tell me whether: 
All 6 lights are burning on the mediaconverter?​​​​​​
The first 3 lights are burning 'green' on the modem? 

The actions I would like to advise you to undertake relate to the red square with the 8 white switches which is visible in the picture. It could be that the installation technician covered it with a black sticker, which is removeable without any repercussions. Before you undertake the following steps, please take out the power cable from the mediaconverter and the modem.
There are three possible alternatives:
- 3 and 4 are up.
- 1 and 6 are up.
- 2, 4, 5, 6 are up.
I would like to advise you to try one of the other options, preferably the 1 and 6, or 3 and 4 option, but it would certainly not hurt to try all of them. Once you have changed up the switches, please wait 10 seconds before plugging in the power cable to the mediaconverter. After another 30 seconds, you can plug in the power cable of the modem.
There is a reasonable chance that you'll be fully online again after these steps, but otherwise please let me know if you have got a T-Mobile Mobile subscription, because I want to try my utmost best to foresee you with extra data until the technician is able to come by. I already tried to find one linked to your T-Mobile Thuis subscription, but I was unable to find one. I am eager and hopeful to hear if this has worked!
Bekijk origineel